Navaratri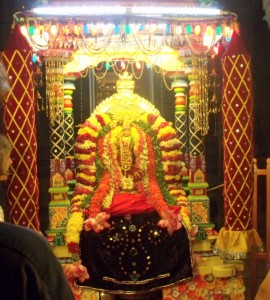 The grand festival of Navarathri is in full swing in the Ashram of Ramana. Traditionally this is a time of worshipping the Goddess Parvathi in all her different forms notably Durga, Lakshmi and Saraswathi.
As the name denotes, Navaratri is a festival of nine nights dedicated to the Goddess Shakthi (Parvathi or Amba) in her different manifestations. The legend of Navarathri starts with the penance of the Goddess on the slopes of Arunachala. Separated from her Lord (due to having playfully closed his eyes with her hands), the Goddess yearns to be reunited with Him. The great sage Guatama advises her to perform penance on the slopes of the holy Hill Arunachala and accordingly she comes here and sits in Tapas (penance). She follows the various scriptural injunctions and exhibits her devotion to the Lord in various ways. During the nine days of penance she manifests herself each day in one of her different forms. On the tenth day she assumes a terrifying form of Mahishasura Mardhini, slayer of demons and vanquishes the evil demon Mahisha on the slopes of Arunachala. Thus this festival is of particular significance in Tiruvannamalai since it was here, millions of years ago, that the first Navarathri actually happened.
In Ramanashram, the Navaratri festival is celebrated elaborately. On the night of Mahavalya Amavasya, the goddess Yogambika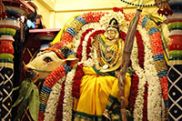 is brought out of her niche in the Mother's shrine and taken on procession around the Samadhi of Ramana. After this, she is installed in a beautiful decorated pedestal behind the Nandi of the Mother's shrine. Every night for nine days, the goddess is decorated splendidly in silk attire, gold jewels and flowers, depicting each day a different aspect. After the Alamkaram, arathi puja is performed by the priests in an elaborate manner. Hundreds of devotees from all over throng the new hall every evening to witness this spectacle.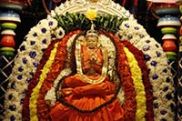 It will be interesting to see what Bhagavan Sri Ramana had to say about this celebration. In Letters from Ramanasramam, Suri Nagamma recounts to her brother in a letter dated 27th January 1946. "You have seen the decorations made in the shrine of Mathrabhutheswara on the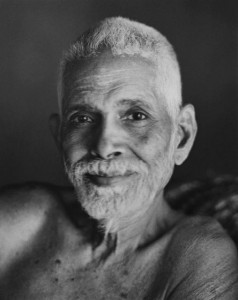 first day of Navarathri festival last year. There was a different type of decoration every day in accordance with the puranic story that Amba went out to do Tapas as she could not bear the separation from the Shiva. So the idol of Amba was decorated suitably and was put in the shade of a tree. After the night meal was over that day, Bhagavan was taken to that place and was shown that idol. Next morning in the hall, while talking about the ornamentation in the temple and in this shrine, Bhagavan said, "Yesterday's ornamentation was intended to show that Amba was doing Tapas. Unable to bear the separation, she goes out to do Tapas (penance) here. But Parvathi is depicted as sitting in a stylish pose under a tree to do Tapas, wearing a silk sari, gold jewels and flower garlands! What our people do is always like this. Tapas means meditation connected with the practice of self-denial or bodily mortification, does it not? Amba is reported to have closed the eyes of Shiva with both her hands for fun and to expiate that sin, Parameswara asked her to perform penance, and so she left her husband, went to a lonely place, and in self-mortification, forgot about her body, became weak and with great austerity, performed Tapas. But see the way Amba is now decorated to depict that story. She is dressed like a Maharani with diamonds and emeralds and gold ornaments and wearing a silk sari and flower garlands!"
---